Introducing our apartments: Abastos SCQ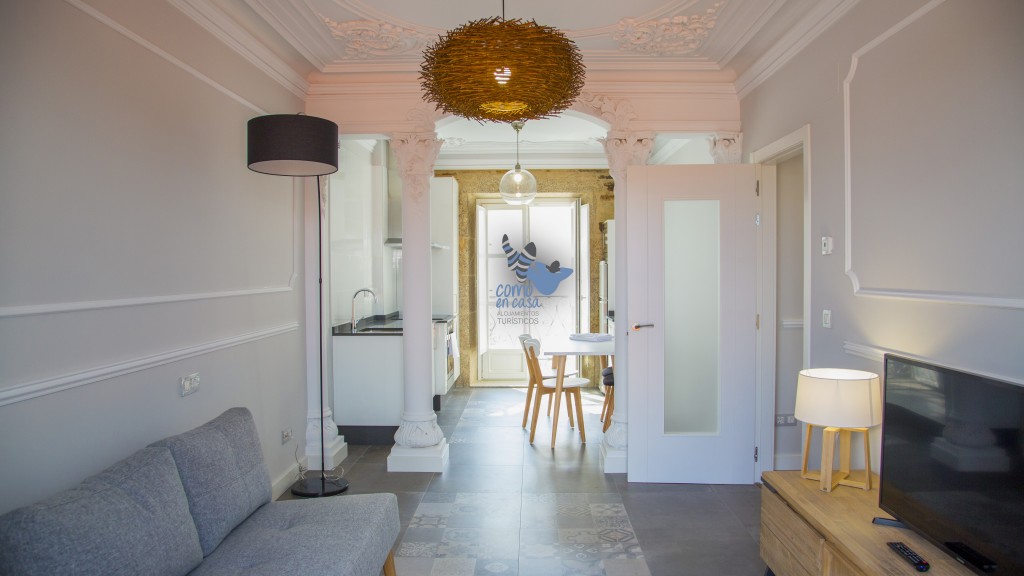 If you are looking for a cozy tourist apartment in which to stay in the vibrant Historic District of Santiago and you have landed here, welcome! We are Como en Casa and this is how we want you to feel during your stay in the city. Therefore, we propose one of our fabulous apartments next to the emblematic Praza de Abastos, which will surely surprise you.
Immerse yourself in history
Although the location of these apartments emanates history and baggage by itself, the building in which they are located is no less. In fact, the famous poetess of the rexurdimento Rosalía de Castro and her husband Manuel Murguía lived in it. So if you're looking for a complete immersion in the culture and long-haul history of Santiago, a stay in one of these apartments is the best option for you.
Between the avant-garde and the tradition
Its interior combines elegance and modernity, as it has fresh and modern furniture made of sustainable wood; and restored furniture from between 1870 and 1900, which seeks to preserve the original spirit of the building. In addition, each of the apartments has two bedrooms and a bathroom, as well as a large kitchen. The plus? In spite of being totally rehabilitated, the essence of the 19th century building has been taken care of. Proof of this are its majestic ceilings and the wonderful columns that separate the spaces and that add an elegant but current touch.
Choosing Como en Casa is choosing the comfort of being one step away from any touristic attraction in the city, so we can not stop recommending those that are closer to your apartment in Abastos. Obviously, going down to the Praza de Abastos is a must, as well as visiting the Cathedral and the squares surrounding it. And in addition to walking through the streets of the Historic Quarter, you can also go to the Alameda, a 19th-century garden and haven of peace in the heart of the city.
Do not hesitate and book your stay in Santiago with Como en Casa and enjoy all the comforts that we offer you; as it is a wifi connection from any apartment, pick up at the airport and key delivery. We are looking forward to making you feel at home!
Comments