Por que nos gusta?
For its comfort
For its location
For its design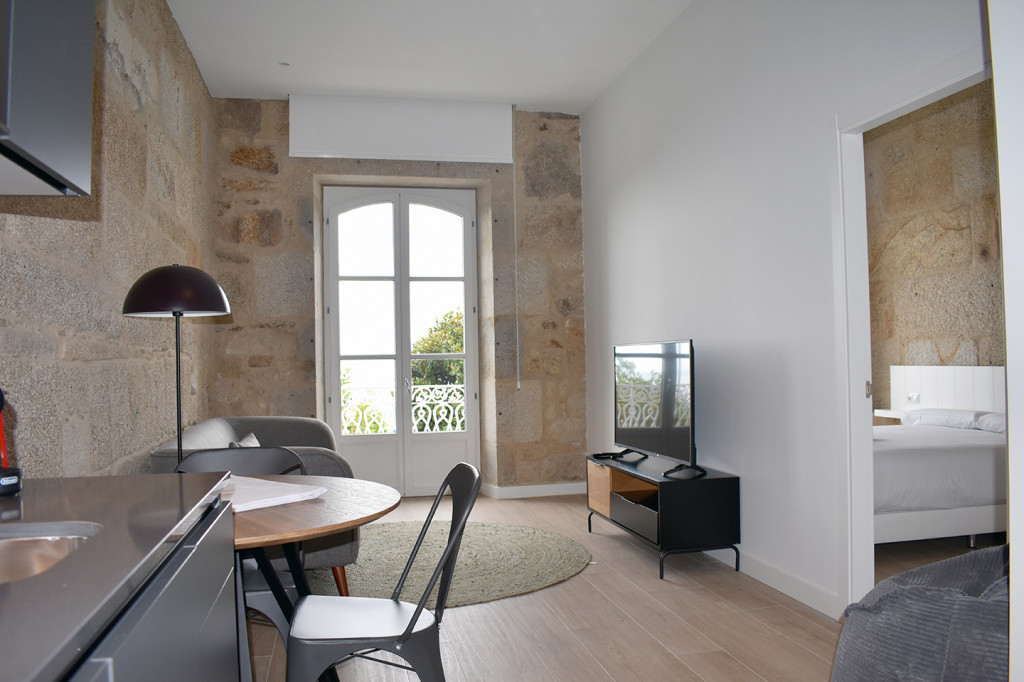 Bow Suites
Modern apartment with beautiful views of the Vigo estuary, and the National Park of the Atlantic Islands of Galicia. Ideal for working, or resting and disconnecting.
Licenses VUT-PO-006661,4,5,6,7,9,70
For 2 adults and 1 or 2 children
Lift
Bathroom with shower
Garage (according to availability)
Full kitchen
Hair dryer
Air conditioning
Equipment
Kitchen room
Heating
Air conditioning
Hair dryer
Hangers
Iron
Gel
Linens
Wifi
Microwave
Coffee maker
Fridge
Plates and cutlery
Basic kitchen utensils
Stove
Crib
Lift
Conditions
Check-in: From 16:00. If you want to check in before the opening hours, check this possibility in advance, to organize us if possible.

Check-out: Until 12:00. If you want to leave the apartment after departure time, check with us in advance if possible.

Cancellations / Prepayment:
The client using the standard rate can cancel without any cost up to 2 days before arrival. Likewise, no change will be penalized if it is communicated at least 2 days in advance. Of course, a modification will only be accepted if the availability and character of the apartment allows it.

Conditions for children and extra beds:
There is no possibility of extra beds.
Possibility of cots (on request).
** Maximum number of crib beds in the room: 1

Pets: Not allowed.

Smoking: No smoking.
Choose date

available
Not available
selected
No availability for some of the selected days, but it is possible that we can still help ...