Santiago's Top 7
Plaza de Abastos-San Domingos de Bonaval-San Martín Pinario-San Francisco-Alameda Park-Collegiate Church of Sar-Galician City of Culture
Recommended
Located in the centre of the old town, the present-day building of the Plaza de Abastos (food market) has housed since 1941 numerous stalls where you can find fish, seafood and all types of Galician cuisine's representative products. Moreover, you can enjoy any seafood you buy right there at the market, since its bar will cook it for a small percentage of the purchase price. Undoubtedly, an experience for all the senses.
telephone:
0034 981 583 438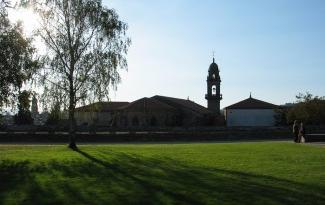 San Domingo de Bonaval
Magical
San Domingo de Bonaval
This park is only a few steps from the place where the French Way enters the city of Santiago and is a must-see for visitors. Without moving from this spot, you can admire the Gothic beauty of the Church of San Domingos, the impressive architecture of the Galician Centre of Contemporary Art, the ethnographic museum called Museo do Pobo Galego and the striking Pantheon of Illustrious Galicians, all surrounded by ideal gardens for strolling and relaxing.
Impressive
This monastery rises up a few metres from the cathedral (in Plaza de la Inmaculada). The church, which along with the cathedral forms Galicia's most important baroque ensemble, features an impressive altarpiece. Visiting the church and museum is therefore a must if you want to discover an important part of Compostela culture.
telephone:
0034 981 589 200
Marvellous
Another of the city's must-sees is this baroque monastery that was built between 1742 and 1749. If features a large church that pays tribute to Francis of Assisi's visit and a Holy Land Museum with artefacts of great historical value.
Not to be missed
In the midst of camellias and oak trees, the city of Santiago de Compostela's 8-hectare green lung features outstanding monuments such as the statue of Valle Inclán, the polychrome statue called "Las Marías," the Church of Santa Susana or the acoustic bench (also known as the lovers' bench).
Curious
Its more than 8 centuries of existence make this building one of the city's historic landmarks. This Romanesque church features an impressive cloister and, since 1975, a museum with artefacts of great historical and documentary value, such as the building's foundation scroll from the year 1136.
telephone:
0034 981 562 891
Overwhelming
You cannot leave Santiago de Compostela without visiting one of the city's most recent architectural landmarks. This project by the North American architect Peter Eisenman combines different cultural venues in a location feature a striking panoramic view of the city and the best sunsets.
telephone:
0034 881997565