Por que nos gusta?
For its location
For its luminosity
For its history
Abastos SCQ Apartments
The Abastos SCQ apartments are located in an idyllic setting for enjoying Santiago's old town, only 400 metres from the Cathedral and right beside the food market called Plaza de Abastos (Santiago's second-most popular spot after the Cathedral). Housed in a restored historic building from the 19th century, where the Galician poetess Rosalía de Castro and her husband Manuel Murguía used to live, they are perfect for resting and feeling "Como en Casa" (at home). Their interior combines elegance and modernity, since they feature attractive, fashionable furniture made with sustainable timber; and restored furniture from between 1870 and 1900, which helps to create a diaphanous space that retains the building's original spirit.
The apartments have incredible views of the west of Santiago, featuring city rooftops, the Minor Seminary or Belvís Park, with the City of Culture on Monte Gaiás in the background.
Abastos SCQ also offers all the comforts as regards a Santiago airport shuttle (fixed price), car rental and the organisation of trips.
Equipment
Fridge-freezer
Dishwasher
Microwave
Oven
Glass-ceramic cooktop
Toaster
Corkscrew
Tin opener
Cutlery
Plates and bowls
Dessert plates
Wine glasses
Breakfast mugs
Small coffee cups
Clothesline
Conditions
Apartment conditions
Check-in: From 4 pm onwards.
Check-out: Up to 12 noon.
Cancellations / Advance payment:
You can cancel without charge 15 days before arrival. From that moment the penalty will be spending the first night in the reserved regime.
Pets: Not allowed.
Smoke: No
Choose an apartament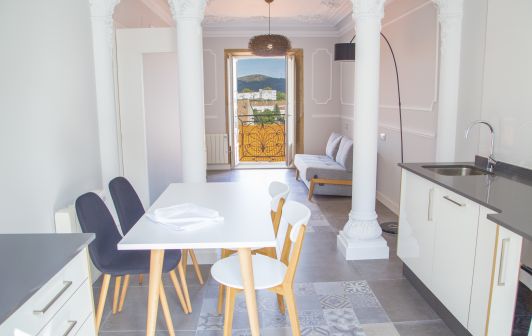 Abastos SCQ
Choose date

available
Not available
selected
No availability for some of the selected days, but it is possible that we can still help ...
8.6 / 10 Rating based on 1 comments